DEMO
Socio Multi Vendor Plugin is a WooCommerce Extension Plugin which turns your WooCommerce Site into a Multi Vendor Site. In addition to selling your Products on your site, you can add the Multi Vendor ability to your site so that other vendors can sell their products on your site for a commission. Socio Multi Vendor gives site admin the ability to create vendors in the backend. The site admin can add vendor, edit vendor, set commission rate for vendors etc. Socio Multi Vendor Plugin works for All Default Product Types of WooCommerce and is Translate Ready. Please note that each product can be sold by only one vendor.
All Payments will be received by the site admin and then the Vendor Commissions will have to be paid to the Vendors manually by the site admin. Hence any Payment Gateway that works with WooCommerce should be fine.
How Socio Multi Vendor Works?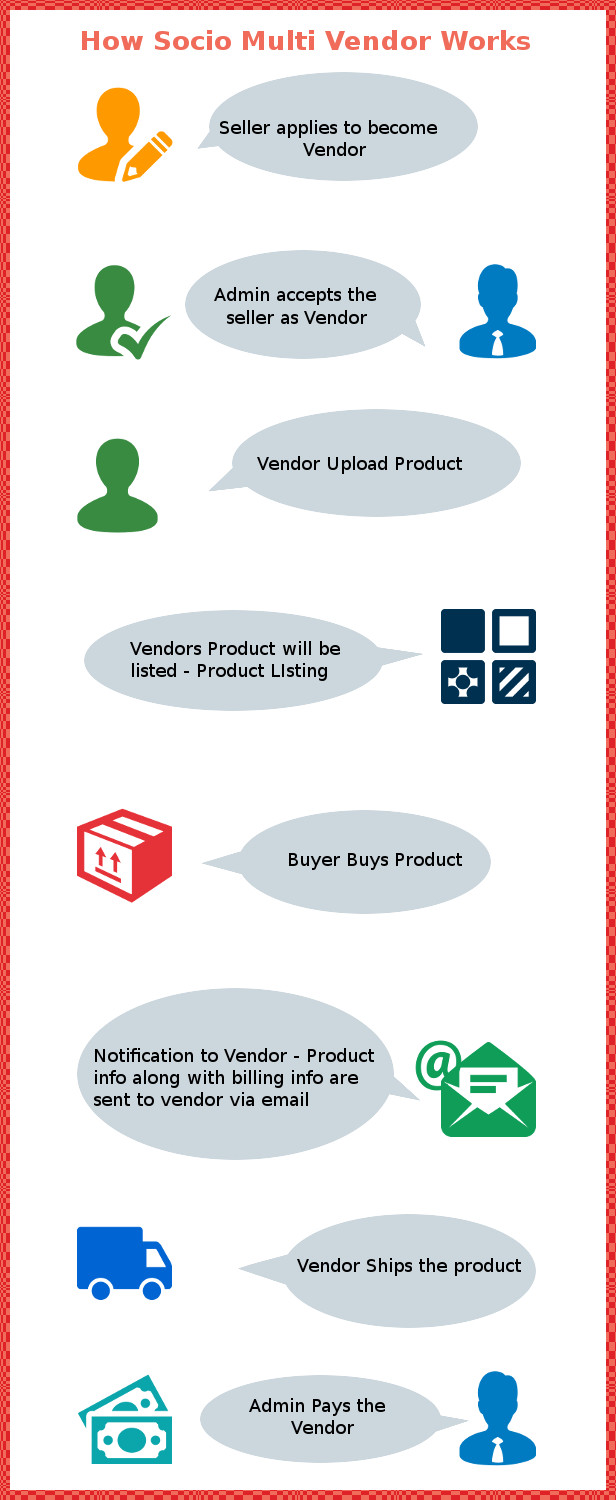 Features
Multi Vendor System for WooCommerce
Vendor Creation by Admin
Vendor can submit Application from Frontend
Vendor can Create Products from Backend which goes to Site Admin for Approval
Site Admin can Approve, Reject, Edit etc the Vendor Application from Backend
Set the Commission Rate in Product Level, Vendor Level and Global Level
Vendor Commission based on Product Price Before/After Discount using Coupon Code
Option to add Shipping Cost to Vendor Commission
Support All Default Product Types
Shortcode Supported for Viewing Vendor Log and Vendor Application Status
Export CVS for PayPal Mass Pay
Email Notification Option for Vendor Application Status such as Submission, Approval, Rejection etc
Email Notification Option for Product Status such as Submission, Approval, Rejection, Pending etc
Turn ON/OFF the Feature where User can add to Cart only 1 Product or Products associated with same Vendors
Custom Slug Option for Vendor URL (Works except for Default Permalink Option)
Compatible with Gravity Forms (i.e. you can design the form but can't add custom fields)
Translation Ready
and more
How to Upgrade to a newer version of Socio Multi Vendor?
If you are using an older version and want to upgrade to the latest version of Socio Multi Vendor then please do the following steps.
1. Deactivate and Delete the existing version of Socio Multi Vendor in your site.
2. Download the latest version file (sociomultivendor.zip) of Socio Multi Vendor from Codecanyon.
3. Unzip sociomultivendor.zip inside which you will find the Plugins files i.e. multivendor.zip.
4. Install the latest version of Socio Multi Vendor i.e. multivendor.zip using WordPress Dashboard.
5. Activate the Plugin.
Please note you will not lose any settings values, data etc by following the above steps.
Support
Please check the documentation as we have lots of information there. The documentation file can be found inside the documentation folder which you will find when you unzip the downloaded zip file.
For support, feature request or any help, please register and open a support ticket on our site.
Updates

Version 5.8 on 21 January 2020
Tweak: Added Order status field for Vendor log(frontend)
Tweak: Added order status field in Commission tab(admin backend)
Fix: Incorrect product purchase email sent to vendors
Fix: Incorrect Commission amount displayed in the vendor's email for the product purchase

Version 5.7 on 20 April 2019
Tweak: Shortcodes Improvements

Version 5.6 on 01 June 2018
New: GDPR compliance WordPress compatibility for Data Access, Data Erasure and Privacy Policy update

Version 5.5 on 26 January 2018
Fix: Polylang plugin conflict

Version 5.4 on 29 October 2017
Fix: Add-on Price is removed from Product Price when the commission is calculated for the vendor

Version 5.3 on 25 April 2017
New: WooCommerce 3.0 compatibility
Fix: Blank Page issue when the order is becoming completed
Fix: Error displayed when manual commission has been awarded for vendor and the Vendor tries to change the order status to shipped

Version 5.2 on 05 April 2017
Tweak: One vendor should be associated to a Product
Tweak: Option to send Shipping costs to Vendor is removed
Tweak: Code Revamped
Tweak: Updated Po Files
Fix: Commission calculation issue
Fix: Warning error upon vendor deletion/rejection
Fix: Default value not set for some settings
Fix: Publishing Product instantly causing page access error

Version 5.1 on 20 March 2017
New: Pagination added for Tables using WP List Table
New: Reset All Button Added to reset the entire settings
Tweak: Code Improvements
Tweak: Reset button in each tab will reset only the corresponding tab
Fix: Plugin Tabs disappeared with PHP 7.1
Fix: Order page blank when order is completed

Version 5.0 on 17 September 2016
New: Validation issue for Same user name used for vendor applications
Fix: WooCommerce 2.6.x Compatibility
Fix: Attributes not including in the mail for variable product

Version 4.9 on 08 March 2016
- Fix: For Variable Product, Vendor not able to upload image for variations

Version 4.8 on 09 February 2016
- Tweak: Option(Show/Hide Message to site Admin text area in Frontend Vendor Application Form) changed from Frontend Application Form Customization to General Setting and validated according to the settings

Version 4.7 on 08 February 2016
- New: Vendor Commission can be set by Site Admin or Vendor option
- Fix: Replaced vendor id instead of vendor name column in sales log
- Fix: Warning message when guest viewing sales log
- Fix: Error when vendor URL is clicked

Version 4.6 on 20 January 2016
- Fix: Vendor Commission is being split always based on discount price

Version 4.5 on 12 January 2016
- Fix: Calculation of vendor commission based on discounted product price

Version 4.4 on 01 January 2016
- Fix: Commission Error for vendors in email
- Fix: Error showing on product name column in vendor email

Version 4.3 on 30 November 2015
- Fix: Submitting vendor application via front end
- Fix: Approving the vendor application which displays error message
- Fix: Error in email of vendor application status

Version 4.2 on 22 October 2015
- New: Added custom CSS in General Settings tab for forms & table in
                 [mv_vendor_application] shortcode & [vendor_sales_log] Shortcode
- Tweak: Change the priority of Woocommerce_add_to_cart_validation hook

Version 4.1 on 08 October 2015
- Fix: Removing Admin Menu

Version 4.0 on 04 October 2015
-  Fix: Comments Section and Appearance Section disappear from WordPress settings when Multi Vendor plugin is activated

Version 3.9.9 on 01 September 2015
- New: Added option to hide the Commission field and Message to Site Admin Field in Vendor Application Form
- New: Display the Vendor Rating in Vendor Page
- Fix: Application Status not displaying in Mail sent Vendor/Admin

Version 3.9.8 on 28 August 2015
- New: Added option to customize the Vendor Application status
- Fix: Vendor Not able to Create Product after Admin Approves the Vendor Application

Version 3.9.7 on 27 August 2015
- New: Added option to open the Vendor Page in a new tab or the same tab on My Account Page
- New: Updated the Po file and include language support for German Language

Version 3.9.6 on 08 August 2015
- Fix: Bool condition check

Version 3.9.5 on 02 August 2015
- New: Include user roles to be changed to Multi Vendor role and removed the exclude option
- Fix: Removing the errors when deactivating WooCommerce
- Tweak: Changed the Error message for displaying when deactivating WooCommerce

Version 3.9.4 on 15 July 2015
- Fix: "Payment status" Translation Problem
- Fix: Hide the Jetpack Plugin Settings for Multi Vendor User Role

Version 3.9.3 on 28 June 2015
- Fix: Sending email upon editing Product Vendor in backend
- Tweak: When Vendor Vategory is deleted Vendor Application also deleted
- Fix: Delete Vendor Application when Vendor deletes submitted application
- Fix: Blank page appear on shortcode is taken care by message

Version 3.9.2 on 21 June 2015
- Fix: jQuery error while Creating Vendors Manually by admin and deleting the Product Categories

Version 3.9.1 on 10 June 2015
- Tweak: Displaying Exclude User role to change to Multi Vendor User Role

Version 3.9 on 10 June 2015
- New: Added Option to Exclude User Roles from changing to Multi Vendor User Role
- New: Allow Special Characters in Error Messages
- Fix: Hiding Payment Method in Vendor Application Form

Version 3.8 on 19 May 2015
- Fix: Calculating Commissions for non Discounted Products
- Fix: Displaying Discounted Product Price
- Fix: Warning Messages on Order Placed

Version 3.7 on 27 April 2015
- Fix: XSS Security Problem Fixed

Version 3.6.6 on 19 April 2015
- New: Validations made with the latest Versions of WooCommerce

Version 3.6.5 on 17 April 2015
- Fix: Translation problem
- Fix: Display Commission amount based on WooCommerce Currency Option Type

Version 3.6.4 on 12 April 2015
- Fix: Splitting Commission during Discount

Version 3.6.3 on 10 April 2015
- New: Option to Export the Due Commission CSV for the filtered vendor
- New: Decimal Value supported in Manual Commissions
- New: Label changes made in Add New Commission to match the label displayed in Commission Table

Version 3.6.2 on 08 April 2015
- Fix: Bulk Actions drop down at Commission list table

Version 3.6.1 on 08 April 2015
- Fix: Pagination in commission list table
- Fix: Displaying the Commissions when filtering option is used

Version 3.6 on 05 April 2015
- New: Filter by Vendor Option
- New: Manually Add New Commission Feature

Version 3.5 on 29 March 2015
- New: Gravity Forms Compatibility
- New: Admin now receives mail when anyone submits Vendor Application
- New: I Agree Option in Vendor Application Form
- Fix: Redirection Problem with My Account on Multi Vendor Role

Version 3.4.8 on 04 March 2015
- Fix: Display Multi Vendor User Uploaded Files
- Fix: Debug Warning on Restricting Media Contents

Version 3.4.7 on 27 February 2015
- New: Include the Customer's note in Vendor's mail

Version 3.4.6 on 21 February 2015
- Fix: Supporting already created Products for Multi Vendor Users in Backend

Version 3.4.5 on 20 February 2015
- Fix: Compatibility issues with WooCommerce 2.3.x

Version 3.4.4 on 10 February 2015
- New: Quantity for displaying in Mail

Version 3.4.3 on 10 February 2015
- New: Variation for Products Shown in Order Email

Version 3.4.2 on 07 February 2015
- New: Changed the hook to receive a New Order Email on Successful Payment

Version 3.4.1 on 15 January 2015
- New: Enable Payment Option in Frontend Vendor Application (Now that option in General Settings Tab)
- Fix: Unexpected T_Function Warning on Activation

Version 3.4 on 06 January 2014
- New: Order Management by Vendor
- New: Vendor Logo Upload from Front End in Vendor Application Form

Version 3.3 on 21 December 2014
- New: Quick Edit for Product List is hidden for Multi Vendor User Role
- New: Show/Hide Option for Commission Field in Single Product Page Backend

Version 3.2 on 19 December 2014
- New: Disabled Commission Field in Product Page for Multi Vendor User Role

Version 3.1 on 18 December 2014
- New: Enhanced loading of Users List in Products
- New: Added Seller Info Tab Name as User Option

Version 3.0 on 12 December 2014
- New: Calculate Commission after coupon code is applied
- New: Shipping cost add to Vendor Commission
- New: Enhanced Vendor Details show it in order
- New: WPML Compatibility
- Fix: Product Count now shown only uploaded by that person

Version 2.7 on 02 December 2014
- Fix: Validation for Displaying Log Table in My Account

Version 2.6 on 20 November 2014
- New: Custom Slug Option for Vendor URL (Works except for Default Permalink Option)
- New: Metabox Name Customization Option
- New: Vendor ID in Commission List Table and Vendors Tab
- New: Meta Box in View Order Details to display Vendor Information like Vendor Name and Vendor ID
- Fix: {product_title} shortcode in mail

Version 2.5 on 25 October 2014
- Fixed Header Already Sent Problem upon Plugin Activation
- Fixed Error Message of WooCommerce Dependency

Version 2.4 on 24 October 2014
- Cleared the Warning Message in Socio Multi Vendor for Array Combine in My Account Page

Version 2.3 on 23 October 2014
- Sell Individually Option disabled by default
- Fixed the Warning Message in Seller Info Tab of Single Product Page

Version 2.2 on 17 October 2014
- Restrict Media Content for respective Vendors (see only their respective uploaded contents)
- Name Changed in Meta from All Socio Multi Vendor to Socio Multi Vendor

Version 2.1 on 16 October 2014
- Fixed Warning in Plugin Activation when Debug ON

Version 2.0 on 15 October 2014
- Vendor (Seller) Info Tab in Single Product Page with Overall Average Rating
- Vendor Capabilities to Create Blog Post 

Version 1.9 on 14 October 2014
- Added Shipping Method and Payment Method Title in Order Email

Version 1.8 on 11 October 2014
- Supported Backward Compatibility for Socio Multi Vendor with Shipping Address in Mail
- Fixed Warning Message in Email Notification

Version 1.7 on 10 October 2014
- Bug Fix in Editing Commission

Version 1.6 on 09 October 2014
- Multisite Supported
- Custom Payment Method Field in Vendor Application Form
- Fixed Warning Message in Socio Multi Vendor for Multisite

Version 1.5 on 07 October 2014
- Fixed Warning Message in Shortcode
- Bug Fix in Validation of Shortcode with Guest

Version 1.4 on 05 October 2014
- Added Customer Details such as Telephone Number and email ID in Order mail

Version 1.3 on 04 October 2014
- Billing and Shipping Address Show/Hide in Order Email
- Bug Fix in Sell Individually 

Version 1.2 on 02 October 2014
- Enable/Disable for Vendor to Add Products
- Auto Approval/Manual Approval for Vendor submitted Products
- Auto Approval/Manual Approval Vendor Application Option Added
- Vendor Capabilities can be customized in Vendor Capabilities Tab

Version 1.1 on 25 September 2014
- Vendor can submit Application from Frontend 
- Site Admin can Approve, Reject, Edit etc the Vendor Application from Backend
- Track Vendor Application Status Option in My Account Page with Shortcode support
- Email Notification Option for Vendor Application Status such as Submission, Approval, Rejection etc
- New Multi Vendor Role for Vendor Admins
- Vendor Ability to Create Product from Backend
- Email Notification Option for Product Status such as Submission, Approval, Rejection, Pending etc
- User can add to Cart only 1 Product or Products associated with same Vendors
- Bug Fix in Commission Split for More than One Vendor 

Version 1.0 on 18 September 2014
- Initial Release