DEMO
ZAR POS is an online Point of Sale app has a user friendly interface that everyone can use without difficulty. The POS can be used online, on iPads, Android tablets or laptops
Say goodbye to ugly, expensive, outdated POS systems and enjoy the ZAR POS web interface designed for the modern retailer.
Admin
Username: admin
Password: password
Sales
Username: sale
Password: password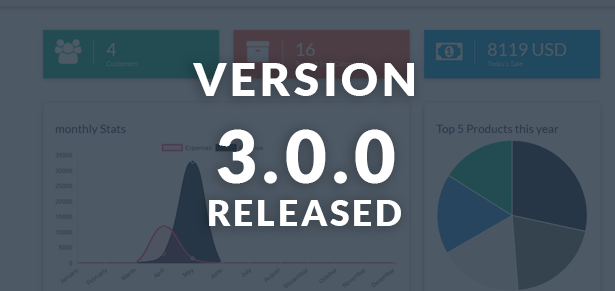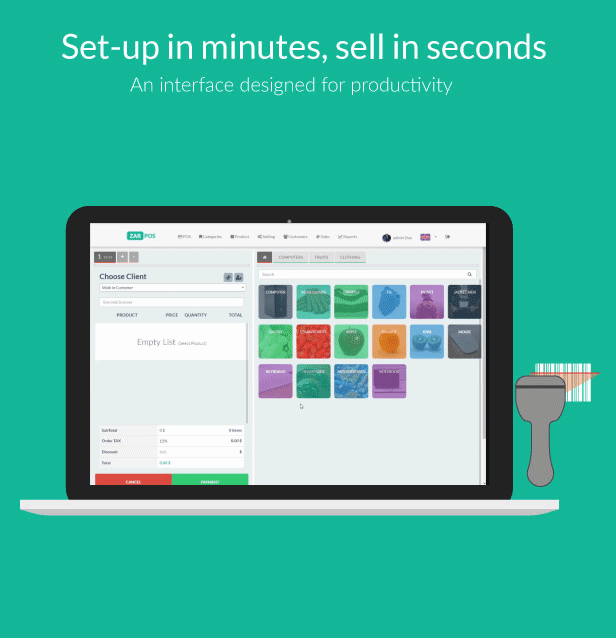 Key Features
Handling multiple customers
Handling multiple stores
simple stock management
Register repport
Products with taxes
Discount (you can add a spesific discount for every customer OR a discount for each sale)
Reports (customers, product number) (monthly stats in the current or other years) … etc
Clients or products repprot in a specific Range.
Barcode scanner compatible (for the products and sales receipt)
Print and save receipts
Hold sales option
On-Screen Keyboard (you enables or disabled in the setting page)
Set Receipt Header and Footer.
Optimized for best performance
Responsive
And many more for the futures updates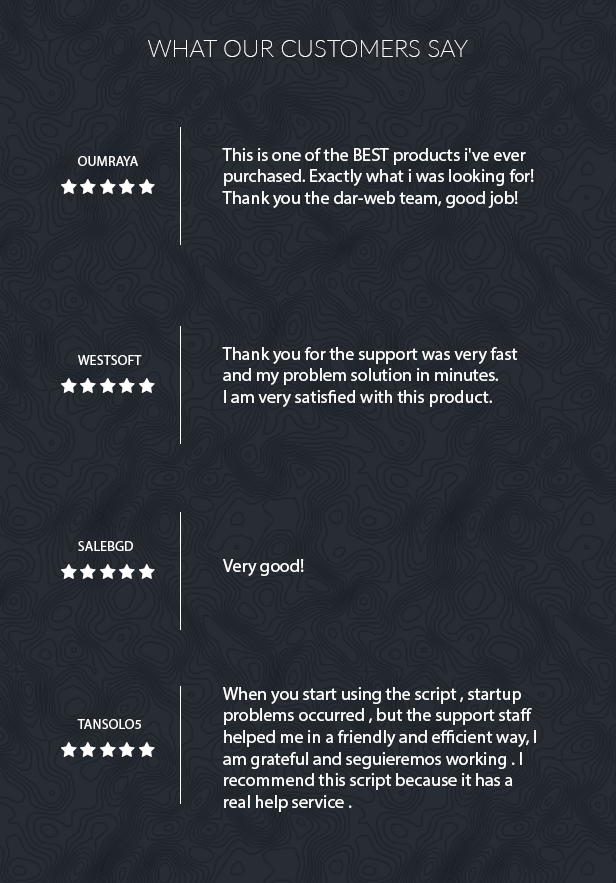 Before you Purchase:
1) Please check system requirements ensure that your server is compatible with ZAR POS.
PHP 5.3+
Mysqli PHP extension
Mcrypt PHP extension
Mysql PHP extension
PDO PHP extension

Need Support?
please check the support tab here first for the FAQ
If you are having any dificulty in understanding the product or you have any question, We encourage you to contact us.
Email us at [email protected] for fast response. We will be glad to help you.
We have a restaurant version too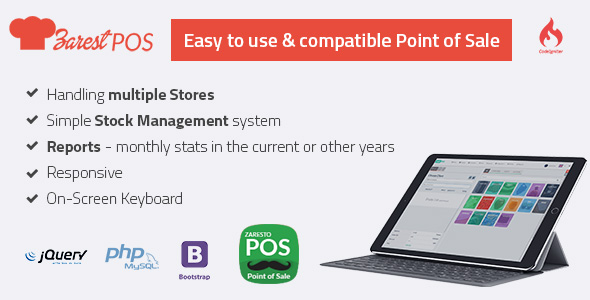 Changelog
Version 3.0.0 (29 August 2016)
added inclusive/exlusive tax methodes
added combination items type
added option to hide a product in a specific store
added product unit input
added filtering in the product page (by type/supplier)
added stock stats in the report page
added Greek language (thanks to Antony Kor)
fixed add problem for the holds higher than 10 in the POS page
minor fixes
Version 2.1.2 (31 July 2016)
added barcode print in product page
fixed tax bug in POS page
fixed receipt print issue
fixed product view tax modal
fixed discount percentage set for the customer's problem
minor fixes
Version 2.0.0 (24 June 2016)
Added inventory tacking feature (simple stock management with Alert for low stock)
Added product view modal
Added Suppliers/warehouses pages
Added fixed prices for every store (optional)
Added multiple payements for every sale
Improved register repport (daily sales)
fixed expence page problem
minor bugs fixes
fixed the install ussue
other minor options added (delete register, modify sale …etc)
Version 1.1.2 (24 May 2016)
Added danish and turkish translation (thanks to the buyers who sent me the translations)
Fixed expences pages problem
Fixed minor issues
Version 1.1.1 (24 May 2016)
Fixed minor issues
Added pdf download for sales and invoices
Version 1.1.0 (23 May 2016)
Added Arabic, Spanish and portuguese Languages (thanks to the buyers who sent me the translations)
Added option to use in multiple store.
Added expenses module.
Added register option with its section in the reppot page.
Added import and download products by csv.
Added pdf download to the receipt.
Added send as mail to the receipt.
Added Stripe payment.
Fix the item Addition (now it increase the quantity in the item existe)
Improved User Interface
update to chart.js 2
Fixed left menus
Version 1.0.0 (3 May 2016)